– Tasarımı Murat Güler tarafından yapılan ve İstanbul Autoshow'da Türk tüketicileriyle tanışan,2006 yılında Pariste tanıtılan Ford'un konsept aracı IOSIS X gerçeğe dönüştü. 13 Eylül'de 2007 Frankfurt Otomobil Fuarı'nda basına ve ziyaretçilere sunulan, Ford Avrupa'nın model ailesine "kinetik tasarım" anlayışını uygulayarak Ford ürün ailesine küçük dış boyutlara sahip ve çarpıcı yeni bir 4×4 "crossover" (sınıflar arası) modeli 2008'in başlarında katılacak; Ford Kuga.
Ford Avrupa Başkanı ve Genel Müdürü John Fleming, "Ford Kuga'nın piyasaya sunulmasıyla, 2006 Paris Otomobil Fuarı'nda verdiğimiz, çarpıcı Ford IOSIS X kavram otomobiline dayanan şık yeni bir modeli iki yıldan kısa bir süre içinde geliştirme sözünü tutmuş olacağız" dedi.
Ford Avrupa Tasarım Müdürü Martin Smith, "Bu tür araçların imaja önem veren müşterilerinin yoldaki etkileyici yeteneği güçlü arazi yeteneğiyle birleştiren çok özel bir otomobil istediğini gördük" dedi.
Smith, "Kuga 'kinetik tasarım'ın görsel heyecanını ve Ford Focus, S-MAX ve yeni Mondeo gibi otomobillerin müşterilerinin bizden beklediği sürüş özelliklerini sunarak piyasadaki diğer araçlardan ayrılacak" diye ekledi.
Ford'un Dış Tasarım Şefi Stefan Lamm, "Kuga maceracı ve diğerlerinden farklı ve bunu ilk resmi fotoğrafımızda vurgulamak istedik" dedi. "Normal araç geleneklerinden ayrılarak daha atletik ve karizmatik olan bir araca yer olduğunu düşünüyoruz, tıpkı ödül kazanan Ford S-MAX'ın bir MPV için oluşturduğu yeni alan gibi".
Yeni Ford Kuga 2008'in başlarından itibaren Ford'un Almanya'da Saarlouis'deki fabrikasında üretilmeye başlanacak. 2008 İlkbaharından itibaren de Avrupa'da satışa sunulacak.
Fleming, "Ford Kuga'yı Avrupa'daki genişleyen ürün ailemize eklemek beni gerçekten heyecanlandırıyor" dedi. "Otomobillerimize duygu ve çekicilik kazandırmak üzere başlattığımız tasarıma dayalı çabalarımızın devamını simgeliyor ve sürdürülebilir faaliyet başarısı yönündeki ürüne dayalı dönüşümümüzü devam ettirirken, mavi oval markasına daha birçok yeni müşteri getirmesini bekliyoruz".
– 2.0L Duratorq TDCi 136PS (134HP) motor – 6 hızlı manuel vites bulunacak. 2 çeker ve 4 çeker versiyonları hazır olacak. Tabiyki daha birçok motor ve vites kutusu seçeneği olacağı söylemek yalan olmaz. Çıkış tarihi yaklaştıkça detaylar belirlendikçe eklemeye çalışacağım. Ford Avrupa'nın Kinetik Dizayn anlayışına göre şekillendirdiği araç, Ford markasının ilk Crossover aracı.Araçta ayrıca Blaupunkt Navigasyon sistemi ve 7 renk destekleyen arka görüş kamerasıda bulunacak.
Orjinal metin:

FRANKFURT PREVIEW FOR NEW FORD KUGA CROSSOVER

COLOGNE, Germany, September 5, 2007 – Ford is releasing the first details of its new Kuga crossover at the 2007 Frankfurt Motor Show, where the car will be previewed ahead of production early in 2008. The Kuga will be previewed alongside the new Ford Verve Concept small car and other exciting new products yet to be revealed on the show's first press day, September 11th.

The All-New Ford Kuga in Brief

* Stylish Ford Kuga crossover will be previewed at Frankfurt Motor Show in near production form ahead of sales launch in early 2008
* Inspired by the iosis X Concept that was revealed at the 2006 Paris Motor Show
* Kuga is the latest showcase for Ford's 'kinetic design'
* Impressive on-road driving dynamics with substantial off-road ability
* Model range features 'intelligent' 4WD and FWD systems
* Powered by Ford's acclaimed 2.0-litre 136 PS Duratorq TDCi diesel engine
* Benefits from strong Ford Focus lineage
* First crossover designed and developed in-house by Ford of Europe
* To be produced at Ford's Saarlouis plant in Germany

Ford of Europe's product portfolio is expanding again – and in another new direction. The new Ford Kuga is an exciting 4WD crossover that combines style with technology and promises impressive on-road dynamics coupled with substantial off-road ability.

The new Ford Kuga will go on sale throughout Europe during the first half of 2008. "When we unveiled the stunning iosis X Concept car at the 2006 Paris Motor Show I promised that in less than two years we would enter this segment with an all-new vehicle developed and built in-house," said John Fleming, President and CEO, Ford of Europe.

"In delivering that promise, the commitment we also gave in Paris two years ago to add new and exciting niche vehicles to a newly energised Ford of Europe portfolio was also kept," Fleming added.

"Kuga offers a rare blend of a wagon and SUV features together with coupé-like sporting qualities," said Stephen Odell, Vice President for Marketing, Sales and Service, Ford of Europe.

"A major element of our strategy to return the Ford of Europe business to sustained profitability is the introduction of exciting new products – like Kuga – that attract new customers to the brand," explained Odell. "The S-MAX proved to us that there is demand for vehicles which offer the customer universal usability for work, leisure and family roles and where "driving pleasure" is also very important."

Unmistakably a Ford
One of the challenges of the Kuga development team was to give the vehicle Ford's acknowledged driving quality while at the same time delivering substantial off-road ability.

For this reason, the Ford Kuga will be available with an intelligent four-wheel-drive system which contributes positively to normal road use and helps give the vehicle an almost sporty dynamic ability. The fact that the Kuga will also be available as a front-wheel-drive only version simply emphasises the crossover concept of the vehicle.
Kuga's powertrain will feature Ford's established and highly fuel efficient 2.0-litre, 136 PS Duratorq TDCi common-rail diesel engine mated to a Durashift 6-speed manual transmission. Further details of the Kuga powertrain will be released closer to launch in early 2008.

Kuga Design – Standing Out
"Our kinetic design form language is very flexible and is giving an exciting look to all our new vehicles," said Martin Smith, Executive Design Director, Ford of Europe. "The iosis X Concept demonstrated how kinetic design could be adapted to the C-sized crossover segment of the market. All the expressive design elements of iosis X are clearly visible in the production vehicle. The new Ford Kuga is a dramatic addition to the Ford portfolio which develops our brand significantly."

Kuga closely follows the proportions and basic dynamic forms of the iosis X. This relationship is enhanced by the paint finish in the same unique 'Ice White' body colour and the bold wheel arches are filled with the same alloy wheels, as seen on iosis X which will be available to customers as a 19-inch option. Strength and athleticism in the design are key attributes of Ford's 'kinetic design' philosophy. Kuga demonstrates this through its dynamic lines, full surfaces and muscular presence. This athletic form language is highlighted with the bold kinetic graphics such as the trapezoidal front grills, rising belt-line and kick-up of the rear window graphic and the dramatic swept back headlamp shapes.

For the production Ford Kuga the coupé-like roof profile of the iosis X Concept has been adjusted to a slightly higher silhouette offering comfortable accommodation for five people.

The luggage compartment is accessed via a split tailgate and this, together with the divided rear lights, ensures the maximum full load width is available for loading and unloading.

Finally, the rear end design of Kuga also incorporates the graphic elements of 'kinetic design' such as the high mounted tail lamps, facetted rear glass and sculptured rear bumper. The rear bumper neatly integrates the tailpipes into the contours of the diffuser.

Kuga Interior – Space and Comfort
The interior of the new Ford Kuga has a spacious feel – and not just because of the large panoramic glass roof fitted to the preview model and available as an option in production.

The clean, ergonomic design of the instrument panel and centre stack converge into a voluminous centre console for maximum accessible storage. These interior components contribute to a comfortable surrounding for the driver and front seat passenger. The high seat and shoulder line position of the doors offers the opportunity for maximum glazed areas to give a light and airy environment for passengers and provides the driver a commanding view of their surroundings.

The materials chosen for Kuga's interior also demonstrate the close links to the iosis X Concept. In Kuga we see once again technical materials, fine leathers and striking orange piping. The Ebony interior is set off by a centre console and details in the door which also feature the piano-white finish from iosis X. All these elements together show how Ford intends to enable Kuga customers in the future to personalise their vehicle.

A hint of the technology coming in Kuga is seen in the new Blaupunkt navigation system which incorporates a 7″ colour display to also show images from a rear view camera incorporated into the tailgate. This new feature, to aid reversing manoeuvres, will find its way to the production version of the Kuga.

"We're very excited about Kuga, and believe that its blend of great looks, compact exterior dimensions, superb on-road driving quality, spacious and high quality interior and good off-road ability will allow it to stand out from the crowd," said Fleming. "We can't wait to see it on and off road early next year"
– Aracın arka bölümü Nissan Qashqai'ye benziyor ve kokpit bölümü C-Max'ten alınmış gibi yorumları duymak artık sık sık karşılaşılan bir olay. Her yeni çıkan araç birbirine benzetiliyor. Aslında hepsi birbirinden farklı ve markaların yıllar öncesinden hazırladıkları ve sergiledikleri konsept araçlarının son kullanıcıya ne kadarını ulaştırdığını gösteren en önemli etken. Konseptler biraz cafcaflı oluyor – olmak zorunda da Lüks olarak gördüğümüz bu araçların dış tasarımından çok iç mekanlarına birazcık daha ince detaylarda eğilseler hiç fena olmaz.
– Eskiden tek baktığım yer motor özelliklerinin olduğu kısımdı – şimdi ise kokpit tasarımınıda göze almaya başladım. 2008 Ford Focus'un kokpit tasarımını inanılmaz derecede güzel buldum ve bunu her yeni modelde daha da güzelleştirerek sunmasını bekliyorum.
– Ford Kuga CUV, C segmenti platformu üzerinde geliştirilmiş. (C-max- Mazda3 – Volvo S40/C30) 60/40 oranında yatan koltuklar yardımıyla bagaj hacmi, 1,355Lt. Donanım seviyesi Trend ve Titanium olarak tahmin ediliyor. Bu donanımlar yeni teknolojik oyuncaklarla desteklenecektir tabiyki.
– Ford Kuga, İngiltere satış tarihi ve fiyatları açıklandı. Zetec Donanım seviyesindeki araç £20,495'a, Titanium seviyesi ise £22,495'a Haziran ayı içersinde satışa çıkarılacak. 2.0-litre Duratorq TDCi 136PS, 320NM tork – standart partikül filtresi, 6 ileri manuel vites , Haldex'in ürettiği akıllı 4 çeker sistemi ile sunulacak.
– Zetec donanımında, 17inçlik jantlar, anahtarsız çalıştırma sistemi, klima, ESP, ABS ile birlikte EBD, akıllı yakıt sistemi, alarm ve mp3 bağlantı noktası.
– Titanium'da Zetec seviyesine ek olarak, yağmur sensörlü silecekler, mavi renkli öncam, belli bölgelerde deri kullanımı, otomatik klima, hız sabitleyici, otomatik yanan iç lambalar, exktra olarak arka görüş kamerası, panaromik cam tavan, USb bağlantı noktası yer alıyor.
– mevcut renklerin dışında 2 adet yeni metalik renkler eklenmiş: Chill ve Electric White
Press Release

THE NEW FORD KUGA PRICES ANNOUNCED

• On sale June 2008
• Two trims available – Zetec and Titanium
• On-the-road prices from £20,495 for Zetec and £22,495 for Titanium
• Distinctive 'kinetic design' styling gives personality and presence
• Impressive on-road driving dynamics with substantial off-road ability
• Best in class CO2 figure of 169g/km
• 2.0-litre Duratorq TDCi 136PS diesel engine

The all-new Ford Kuga, Ford's first entry into the growing crossover segment, will go on sale in June 2008. Prices start from £20,495 for the Zetec and £22,495 for the Titanium.

The Ford Kuga is based on Ford's acclaimed C-car architecture – well proven in both the Ford Focus and the Ford C-MAX. Distinctive design, intelligent AWD system, and impressive on and off-road ability make the Kuga an attractive proposition.

"I'm really excited about moving into this growing segment with such a stylish and capable vehicle. I'm confident that Kuga is going to give the competition a run for their money!" said Roelant de Waard, Chairman and Managing Director, Ford of Britain.

Powered by the 2.0-litre Duratorq TDCi 136PS diesel engine with standard particulate filter and six-speed manual transmission, Kuga comes with full-time Haldex intelligent AWD system. The engine provides 320Nm of torque at 2,000rpm and 340Nm in transient overboost. With combined fuel consumption of 44.1mpg it also achieves class-leading levels of CO2 – 169 g/km.

Kuga is available in two specifications – Zetec and Titanium. Standard features include – keyless start, 17-inch alloy wheels, air conditioning, Electronic Stability Programme (ESP), ABS with Electronic Brakeforce Distribution (EBD), Ford Easy fuel, Thatcham category 1 alarm and MP3 connector.

Titanium adds rain sensing wipers, blue tinted glass, partial leather trim, cruise control, automatic headlights and dual electronic air temperature control. Additional premium options available include, rear facing camera, panoramic roof, USB connectivity and DAB radio.

New features to the segment and to Ford include a dual split-tailgate design – offering flexibility and convenience with separate access to either the glass upper tailgate section only or both sections simultaneously.
The car is available in a choice of nine body colours including two brand new metallic colours – 'Chill' and 'Electric White.'

The eye-catching Kuga interior incorporates cloth or fine leathers and gloss finishes with a choice of shades. Colour-matched details of the interior design and integrated trim colours highlight the instrument panel and door trims, creating a complete, unified look of design-led quality and premium sportiness.

Kuga offers comfortable and spacious seating for up to five adults. The second row of seating has a 60/40 split and can fold completely flat to maximise the load space. Underseat storage beneath the second row with further storage under the floor of the luggage compartment area offers maximum practicality. The Kuga has a generous luggage capacity of 1,355 litres when in two-seat mode, while the enclosed luggage compartment achieves a volume of up to 410 litres.
– Ford Kuga şu anda Ford'un Almanyadaki fabrikasında üretim bandında. 45000 ünite Ford Kuga satmayı planlıyor. 32 farklı ülkede bu aracın satılması ve özellikle Almanya, Fransa, İspanya, İngiltere ve İtalya'da ilgi görmesini istiyorlar. Saarland'da bulunan Saarlouis, 6600 çalışanı ile bölgenin en büyük işveren fabrikası konumunda. 11 milyon araç üreten (16 Ocak 1970'den beri) fabrikada Ford Escort (6.5 milyondan fazla), Ford Capri, Ford Fiesta ve Ford Orion üretildi. 1998 yılında ise Ford Focus üretimdeydi. 2007 yılında 392,413 araç üreten bu tesis, 2008 yılında ise bu üretimi 425,000 adete yükseltmeyi planlıyor.
Press Release

Production of the all-new Ford Kuga, Ford of Europe's first entry into the highly competitive crossover market, began today at the Ford plant in Saarlouis, Germany.
The company plans to build around 45,000 examples of the new model in Saarlouis this year – equivalent to nearly 10 per cent of the plant's annual production volume.

Altogether Ford invested a very significant amount in new manufacturing technology to support Kuga production at Saarlouis. Sales of the Kuga will progressively begin across all European markets a little later this year.
"A distinctive 'kinetic design' exterior, Ford's acclaimed on-road vehicle dynamics and premium-like quality are just some of the highlights Kuga will bring to the fast-growing crossover market segment," remarked John Fleming, President and CEO Ford of Europe.

The Kuga is the fourth model to be launched at Saarlouis in the past 12 months. It follows the new Ford C-MAX in March 2007, the new Ford Focus in December 2007 and the new Ford Focus ST earlier this month.
And with the introduction of the Kuga, Saarlouis now manufactures for the first time three different model series at the same time – Focus, C-MAX and Kuga.

The Ford Kuga is being built exclusively in Saarlouis and around 84 per cent of production will be exported to a total of 32 different countries. The five largest sales markets are Germany, Italy, Great Britain, France and Spain.
With 6,600 employees, the Ford plant in Saarlouis is the largest employer in the Saarland. A further 2,000 people are employed at the neighboring supplier park which supports the plant.
More than eleven million vehicles have been produced by Ford in Saarlouis since the start of manufacturing there on January 16, 1970. The Ford Escort (more than 6.5 million), Ford Capri, Ford Fiesta and Ford Orion have all been built there in the past. And the Ford Focus since 1998.
In 2007 a total of 392,413 vehicles rolled off the production line in Saarland. This is expected to increase to 425,000 vehicles in 2008.
– Reklam filmini Danimarkalı yönetmen Nicolai Fuglsig, müziği ise Fransız şarkıcı Camille hazırlamış.
– Ford Kuga'yı tanıtmak amaçlı açılmış bir site. Ayrıca Kuga ile ilgili broşürüde indirmenizi öneriyorum…
Site: http://www.olaganireddet.com/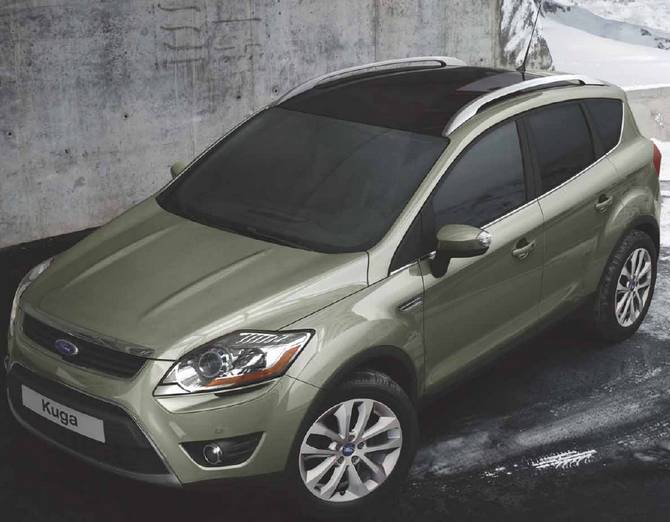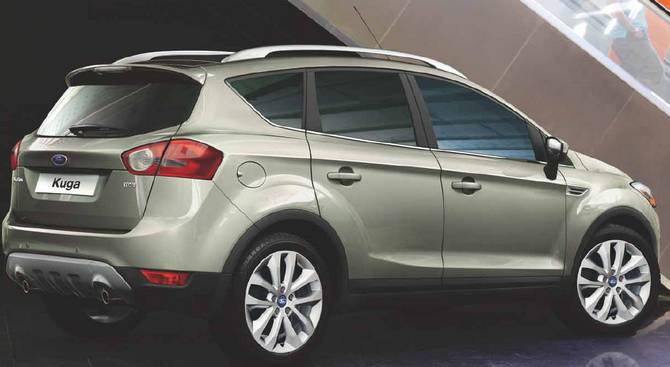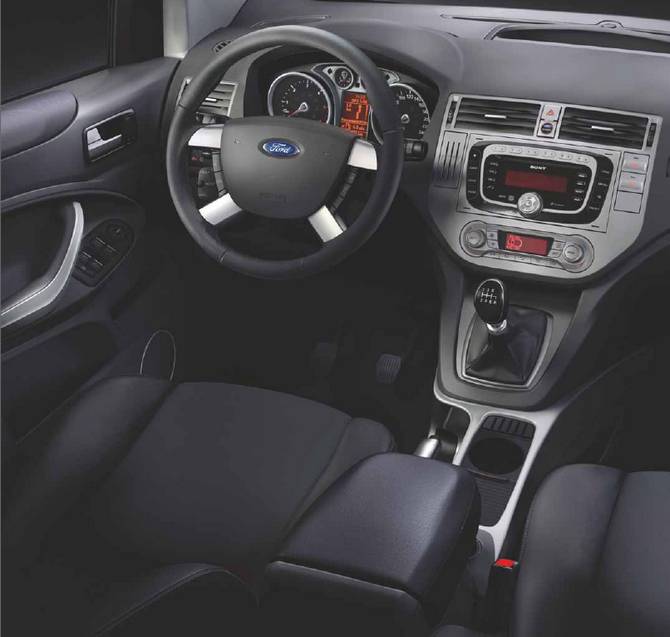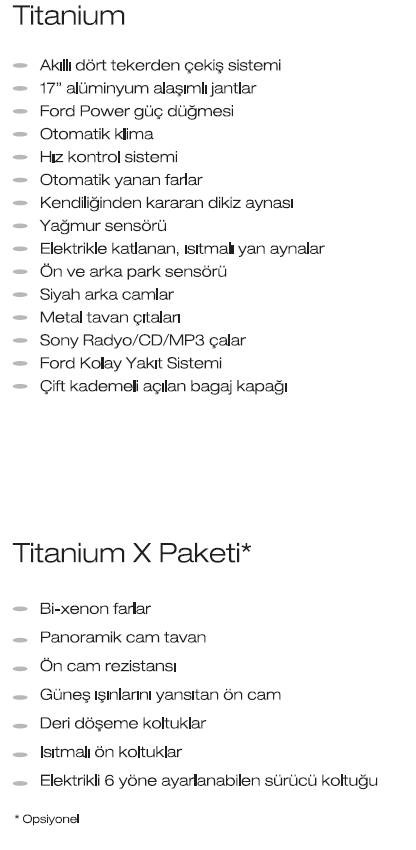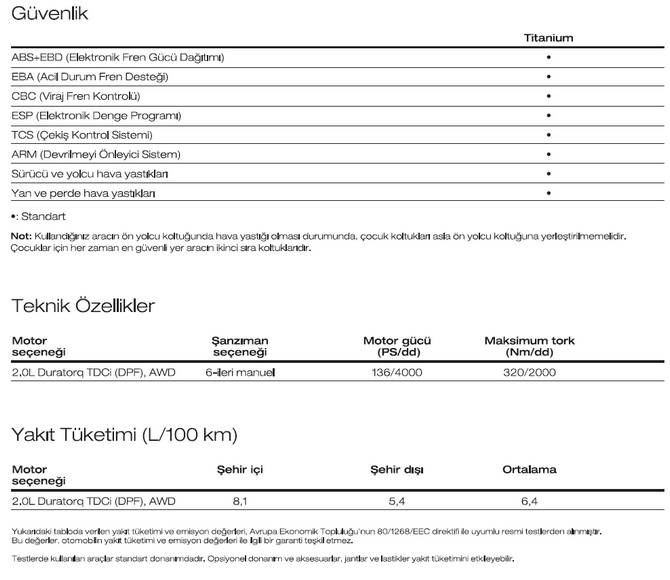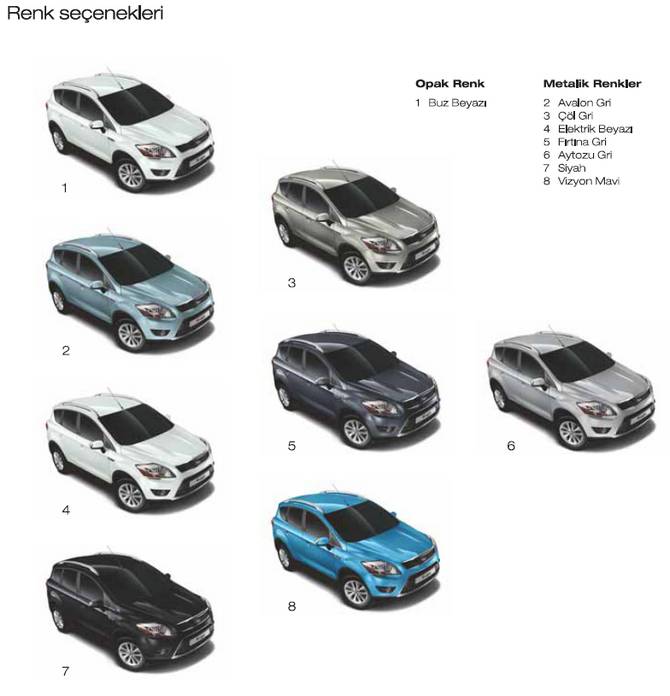 Fiyatı açıklanmış:Ford Kuga Titanium 5K 2.0 TDCi : 76.000,00 YTL
Kaynaklar:
http://forum.donanimhaber.com/m_17306207/tm.htm
http://www.ford.com.tr/autoshow06/
http://www.otomobilgazetesi.com/otomobil.php?id=4232
http://www.ntvmsnbc.com/news/414742.asp
http://www.autoblog.com/2007/09/11/frankfurt-2007-ford-unveils-kuga-its-first-euro-made-cuv/
http://www.autoblog.com/2007/09/04/frankfurt-preview-ford-kuga-crosses-over-to-production/
http://www.motorauthority.com/news/crossovers/ford-kuga-crossover-breaks-cover/
http://www.autoblog.com/photos/2008-ford-kuga-production/643242/
http://www.worldcarfans.com/9080219.031/ford-kuga-uk-pricing-announced
http://www.worldcarfans.com/9080227.014/ford-kuga-production-start
http://www.worldcarfans.com/9080522.004/ford-kuga-commercial-makes-cl-debut
Benzer Yazılar
Etiketler